WEDDING VOCAB 101
Do you know the difference between embroidery and applique? Satin and crepe? How about horsehair and crinoline? Yeah…we didn't either.
There is A LOT to learn when it comes to bridal lingo and no one we know carries a dictionary in their back pocket, but they do carry their phone.
We've collected the most commonly used wedding dress terminology, along with easy to understand definitions, you can bookmark to reference post-appointment or as you browse dresses online. Consider this your wedding vocab crash course.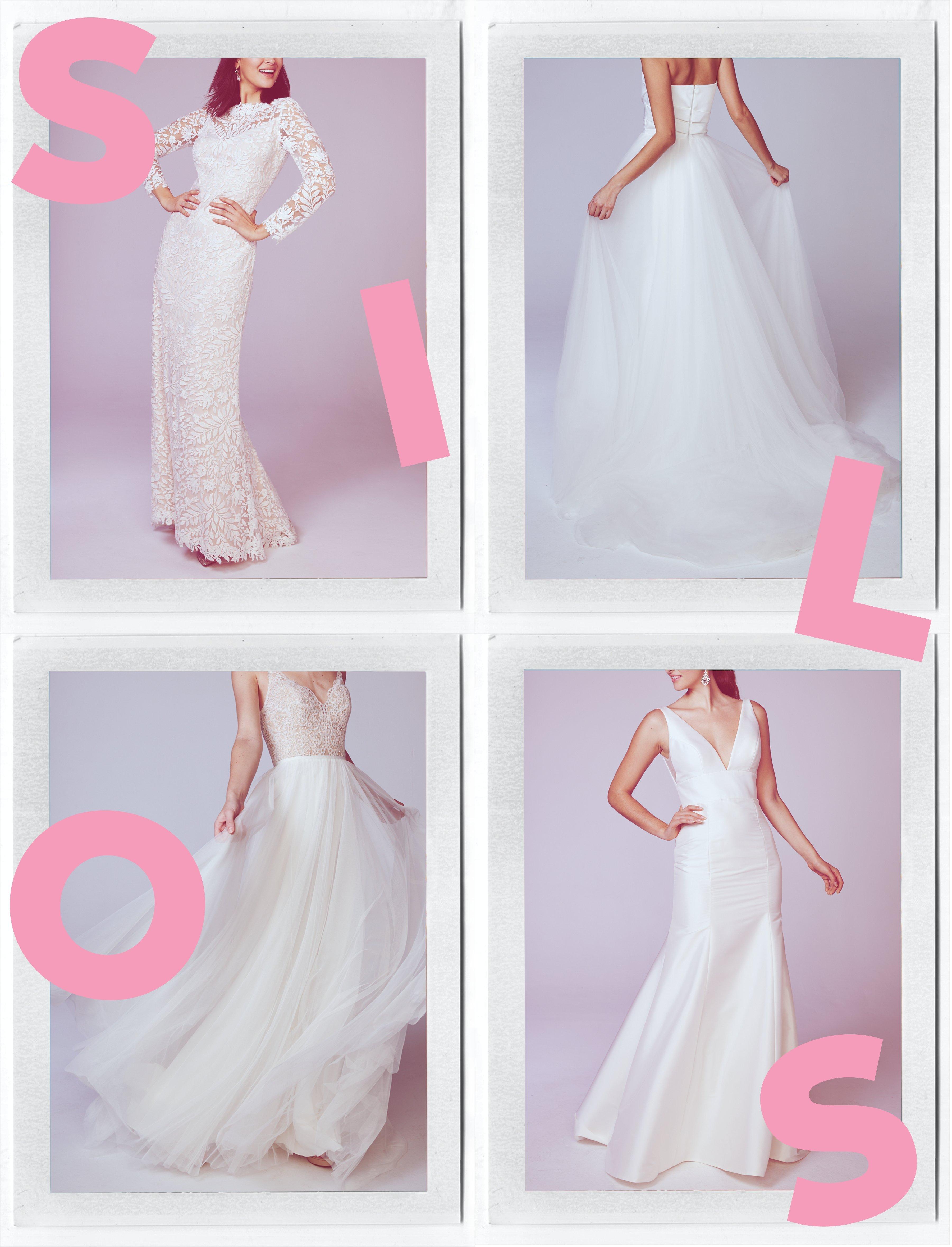 SILHOUETTES
A-Line – Fitted bodice with a softly flared skirt over the hips. Silhouette forms an A shape (get it?)
Fit Tip: A-lines should be sized using bust and waist measurements. Hip measurements are less important.
Ballgown – Fitted bodice with a dramatic, full skirt. Similar to an A-line silhouette, but with a more full skirt.
Fit Tip – Ballgowns should be sized using bust and waist measurements. Hip measurements are less important.
Mermaid – Dress is fitted to the body through the low hip, with a dramatic flare out underneath the hip. This silhouette may also be called a trumpet.
Fit Tip: Mermaids should be sized based on the wearer's largest measurement, due to the fit hip.
Fitted – Dress is fitted close to the body all the way throughout. This silhouette is similar to a Mermaid, but does not kick out underneath the hip.
Fit Tip: Fitted styles should be sized based on the wearer's largest measurement.
Sheath – Silhouette is loose throughout, just skimming the body. Silhouette may also be called a column.
Fit Tip: Sheath dresses should be sized based on the wearer's largest measurement, and can be sized up or down depending on the wearer's fit preference.
FABRICS: LACE
Corded Lace – An intricate floral lace with three-dimensional cording outlining the floral pattern.
Fun Fact: Also known as Alencon lace, this lace was named for the region of France where this technique originated in the 1500s.
Chantilly Lace – A dainty and fine lace. Small stitches are used to create floral patterns that have an effect of light and shadow.
Crochet Lace – A bohemian favorite, this lace is thicker and denser with motifs that are connected through visible stitching and larger openings between motifs. This lace may also be called a Guipure lace.
Graphic Lace – A general term for cotton or polyester laces that typically feature large floral patterns or vine motifs. These laces are machine-made and generally have at least some stretch engineered in.
Applique – This term can refer to either a piece of lace or a piece of embroidery that is added on top of another fabric. Lace & embroidery appliques are typically hand-placed on the garment to add a decorative element, or to help frame the figure.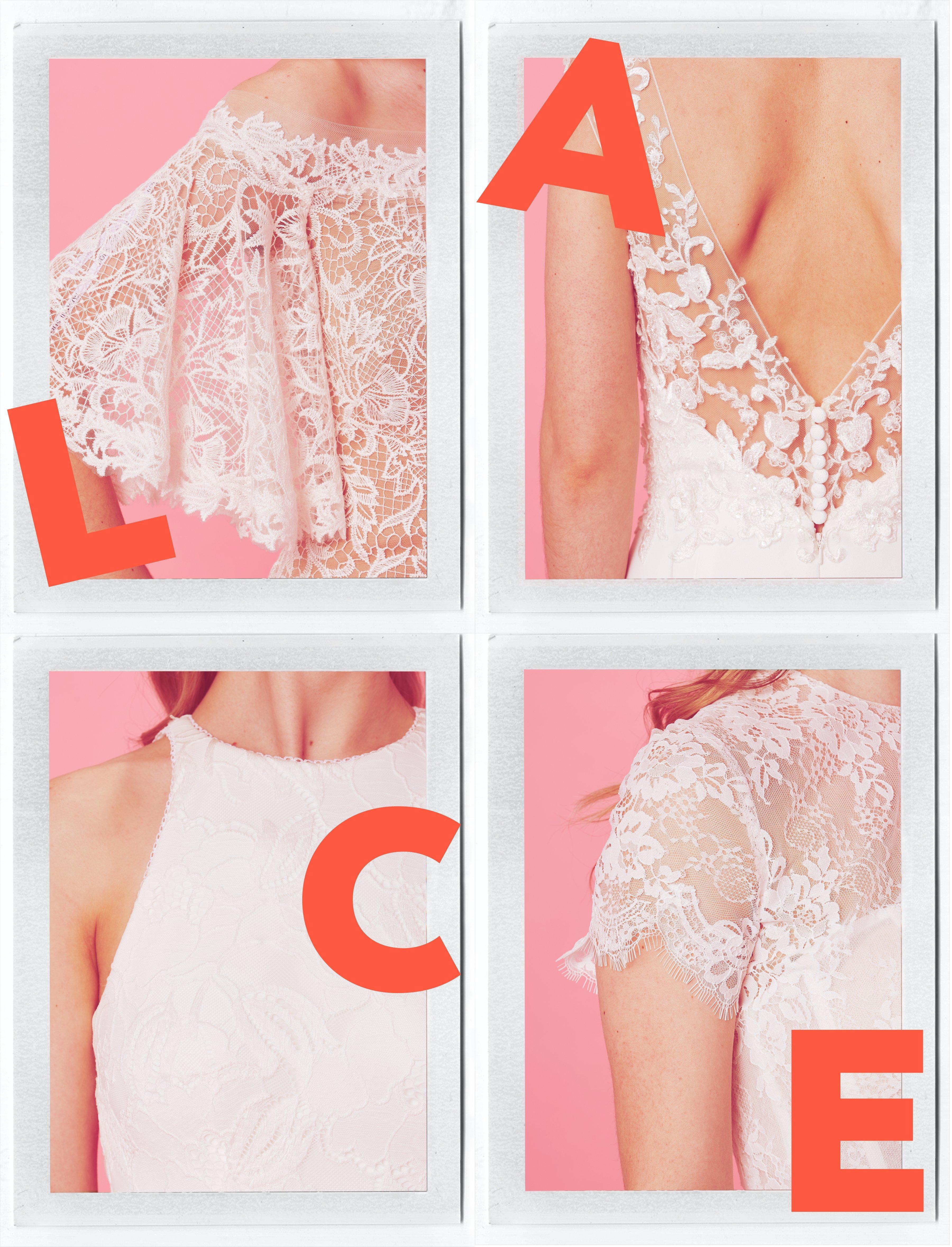 Embroidery – Often used in a similar way as lace, either as an allover effect, or appliqued on for decorate effect, embroidery is a design that is applied on top of fabric, and is created using a needle to add raised designs. Embroideries can be machine made or handsewn, depending on the intricacy of the design.
Fun Fact: How is embroidery different than lace? Lace is created by knotting threads into patterns around a fine tulle base, creating a new fabric; while embroidery is attached to an existing fabric and cannot exist independently of it.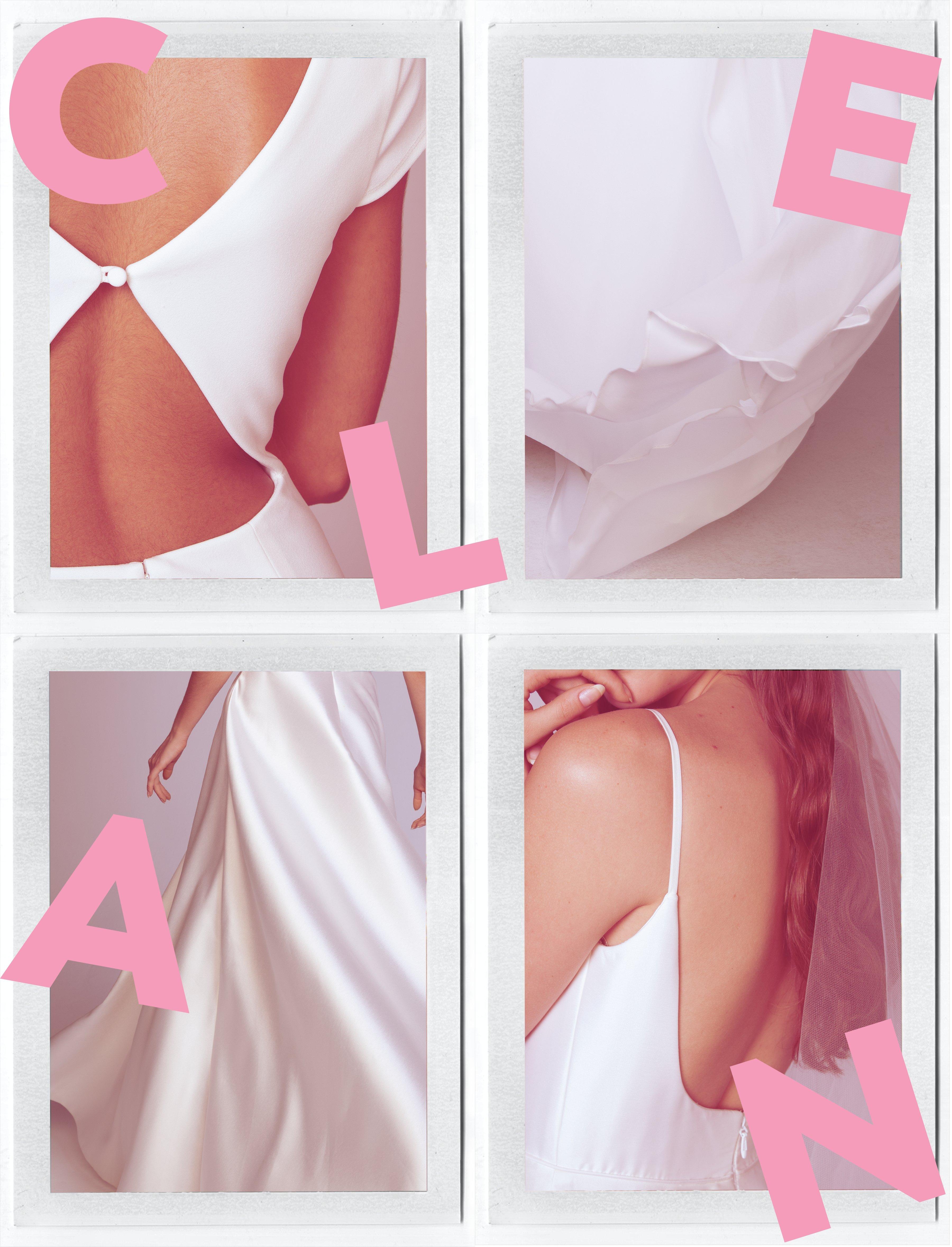 FABRICS: CLEAN SLATE
Chiffon – Light-weight, sheer, flowing fabric that drapes beautifully and is often used in A-line styles.
Crepe – Crisp, light-weight fabric with a crimped or grainy texture. Crepe drapes beautifully across the body, especially in a bias cut or a more fitted silhouette. Lightweight crepe is thin and can be very showy on the body.
Stretch Crepe – Thick and highly stretchy knit fabric. Similar to lightweight crepe, heavier crepe is great for more fitted styles, as it can provide a close fit (similar to a body-con dress). The heavier weight and great stretch of this fabric also allows for more coverage and an easier fit than a more lightweight crepe.
Fun Fact: Scuba and Neoprene Crepe are common types of stretch crepe found in everyday fashion
Tulle – Sheer, lightweight netted fabric with visible holes. Tulle is typically layered to provide more coverage, and has an airy and feminine aesthetic.
Taffeta – Crisp, structured, and lustrous fabric. One of the more traditional wedding dress fabrics, taffeta is classic and timeless. Taffeta has very little stretch or give in the fabric and therefore must be fit expertly.
Fun Fact: Classic taffeta can be a little noisy, we've sourced the quietest taffeta out there because we loved the look but hated the crunch!
Mikado – Similar to taffeta in shape and structure, mikado has a heavier weight, a more textured finish, and a luminous sheen. Provides great structure and weight in full skirts as well as in more tailored silhouettes.
Jacquard – Specially crafted fabric, typically a heavyweight satin or mikado with decorative motifs woven directly into the fabric. This results in an allover print that is texturally rich.
Fun Fact: As timeless as taffeta, we love the touch of whimsy that jacquard prints add to a modern bridal silhouette. It's classic with a twist.
GARMENT DETAILS
Bias Cut – Refers to a way of cutting the fabric of a dress. Fabric is cut diagonally against the grain of the fabric, so the fabric will drape more closely to the shape of the body. This type of cut is often associated with slip dresses.
Bodice – The top portion of a dress that runs from shoulder to waist
Boning – Pieces of flexible plastic sewn into the bodice of a garment to provide additional structure and fit
Bust Cups – Cups sewn into the bodice of the garment for added support and coverage. These cups may be sewn between the layers of fabric or tacked into the inside of the garment. Either way, these can be removed or replaced by a tailor to better fit an individual's bust size.
Bustle – A system of tying up the train of a long gown, through a series of ribbons and ties inserted on the underside of the skirt by a seamstress. This allows for the skirt to become the same length all the way around, so the bride can move more easily during her reception.
Covered Buttons – Buttons covered with the same fabric as the dress, often added as a finishing detail on the back seam, over or instead of a zipper.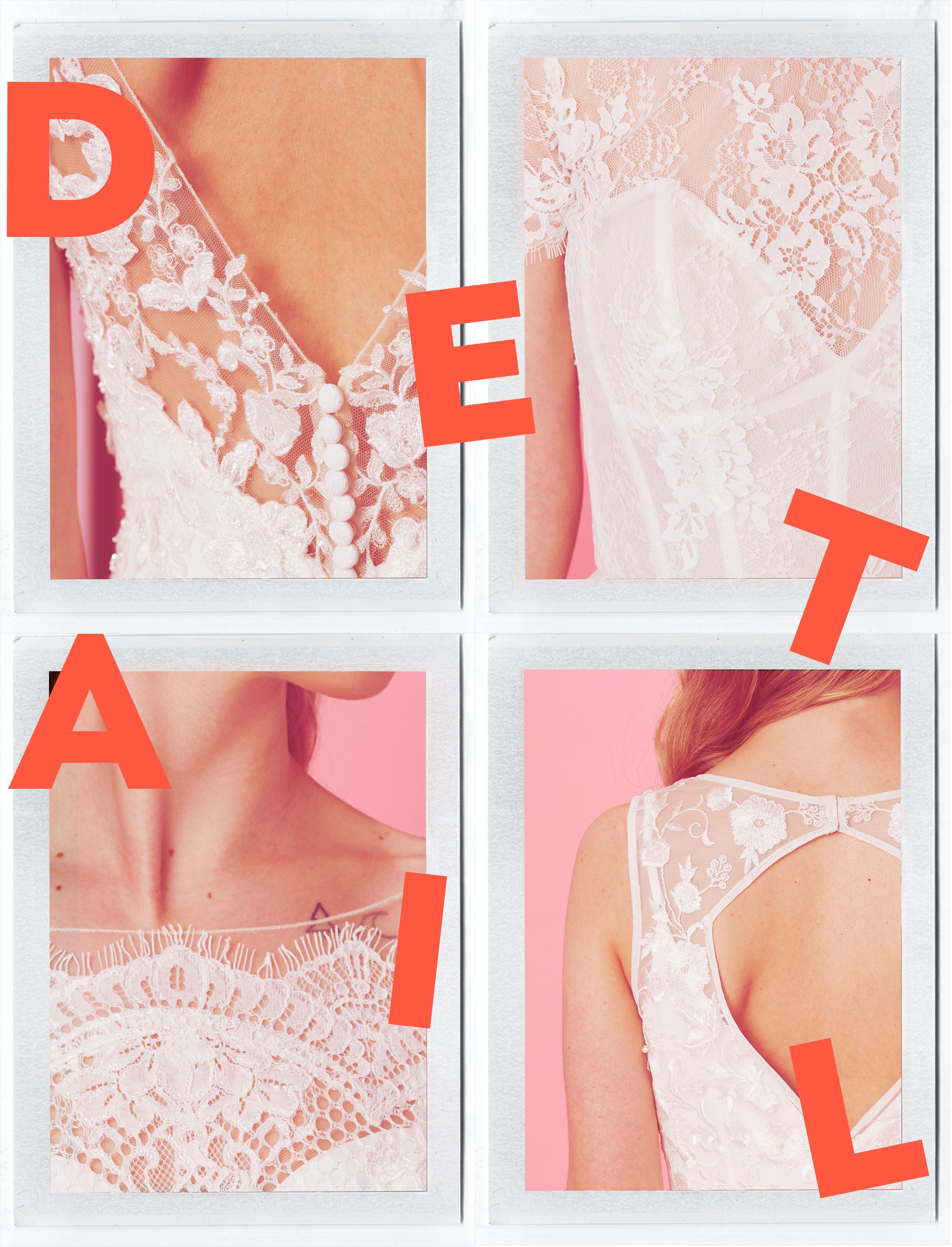 Eyelash Trim – A trim applied to the edge of certain types of lace, with a scallop detail and a light corded fringe.
Crinoline – Stiff underskirt added underneath an Aline or Ballgown to help hold the size and shape of the skirt. Also known as a Petticoat.
Horsehair – A thick net that can be inserted at the hem of fabric to give a skirt a stiffer edge, and therefore a more voluminous shape. Horsehair can be inserted between fabrics as an internal stiffener or added to the end of a skirt as a detail.
Darts – V-shaped seams sewn into the garment to allow for a tailored fit over the bust
Embellished – General term for fabric that has been beaded or appliqued with a piece of lace or embroidery.
Godets – Triangular pieces of material sewn into a skirt, adding volume and a flared effect
Hem –The edge of a piece of clothing, most often refers to the skirt hem. Hemming a garment is the process of shortening the skirt to fit a woman's specific height.
Hook & Eye Closure – A type of closure that has a small hook on one side and a loop made of fabric or metal on the other.
Keyhole – Back detail that connects at the back neck, with the upper back exposed above the back zipper.
Illusion – Sheer tulle fabric meant to blend against the skin. Illusion can also refer to a type of neckline that utilizes this sheer tulle fabric to keep a more plunging or complicated neckline up.
Princess Seam – Shaped seams that run over the fullest parts of the body (over the bust and/or over the abdomen) that provide additional tailoring to a fitted dress.
Have a suggestion on additional terms? Email us [email protected]