Fit Guide
Finding the ideal fit for your wedding dress is possible, even at home!
The Vow'd Stylists have made finding your measurements easy and attainable with just a few simple steps and tools.
STEPS TO PREP
We recommend that you grab a nearby friend (or significant other) to help with the measuring. Having a bestie to help you out produces a more accurate result. However, if you are flying solo you can follow the steps on your own.

Gather your tools: A full-length mirror, pen and paper, and a soft fabric measuring tape. Don't have a soft measuring tape on hand? No worries! Use a piece of string and gauge the measurements against a self-retracting metal tape measure (you know-the kind you use to measure furniture).

Wear tight-fitting clothing or shapewear. Avoid wearing anything baggy and wear a bra similar to the one you plan on wearing on your special day.
The three main measurements to focus on are your bust, waist and hips.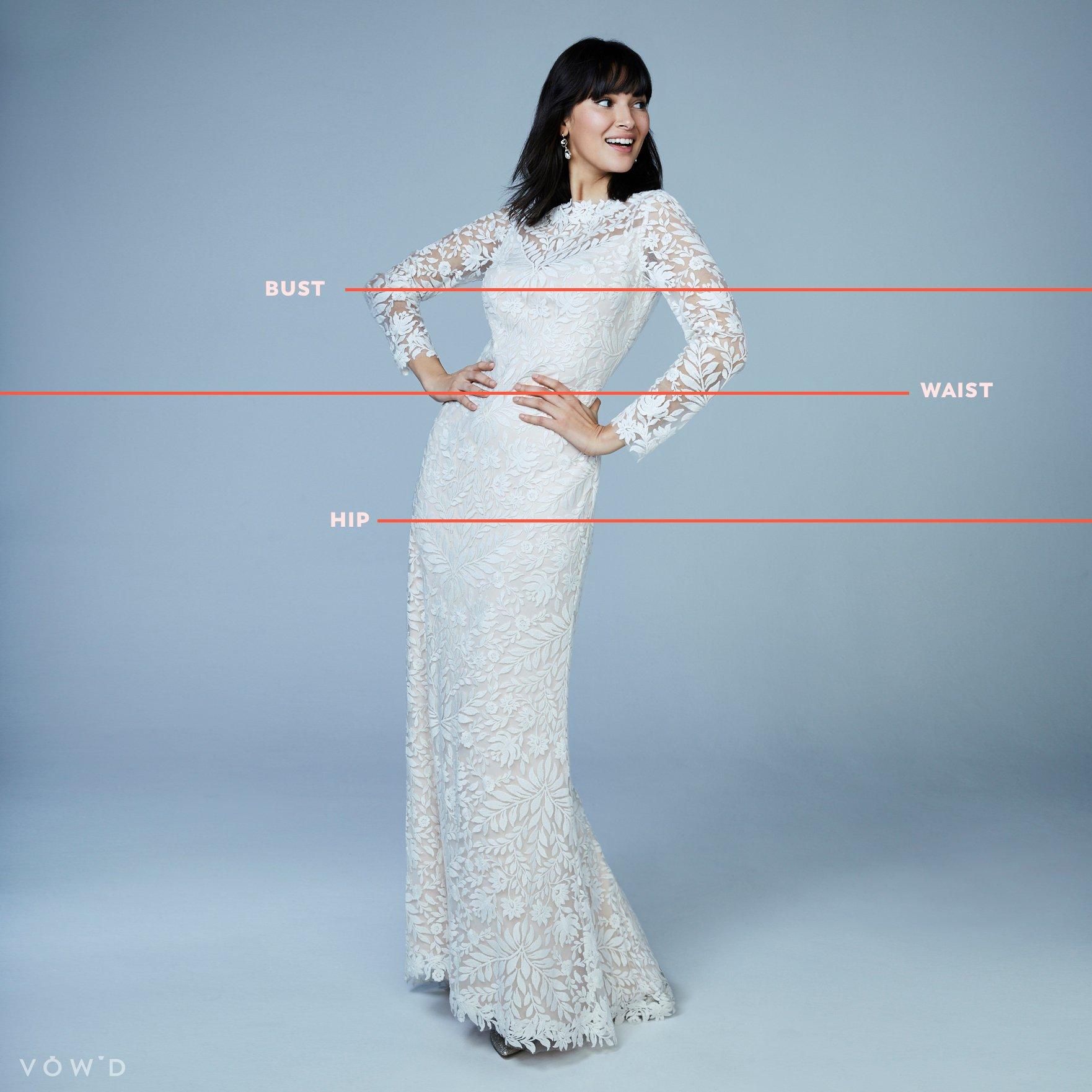 BUST
This would be the fullest part of your chest, right around where your nipples are located. Make sure the tape is lined along the structure of the back of your bra, try to avoid any drooping.
WAIST
This would be the smallest part of your waist, your natural waistline. If you need help finding this, bend slightly to the side and feel for where your body creases. Once you have the tape wrapped around, take a deep breath out to avoid the tape being TOO tight, you want to be able sit down on your wedding day!
HIPS
This area would be the fullest part of your hips. To help find the exact right spot: line the measuring tape along the bottom of your pant zipper.
Now that you've learned the proper placement for your measuring tape, follow the tips below to get the most accurate measurements:
Stand in front of the mirror with your heels together and wrap the measuring tape from your back to your front so you can better read the numbers.

Make sure the measuring tape is flat against your body; there should not be any slack while you wrap the tape.

To read the correct number, use the very end of the tape as an arrow and guide it to the furthest number.

If you notice that you are in between two numbers, go with the larger number. Even though the dress will be slightly big on you once you order it, it will be much easier for the seamstress to take your gown in to get the perfect fit.
That's it – You've successfully taken your measurements and can now compare them to the individual size charts on each of our apparel pages! When comparing styles be sure to check your measurements against each size chart as you may be different sizes depending on the fit and fabrication of the dress you're loving.