Origins, Meanings and Modern Takes
Wedding Traditions | Crash Course
You might have guessed it by now, but we're big fans of love and all the special, sentimental and superstitious traditions that come with it! We've spent countless hours researching wedding traditions and have come up with a few favs worth sharing, plus new ways to bring these traditions to life.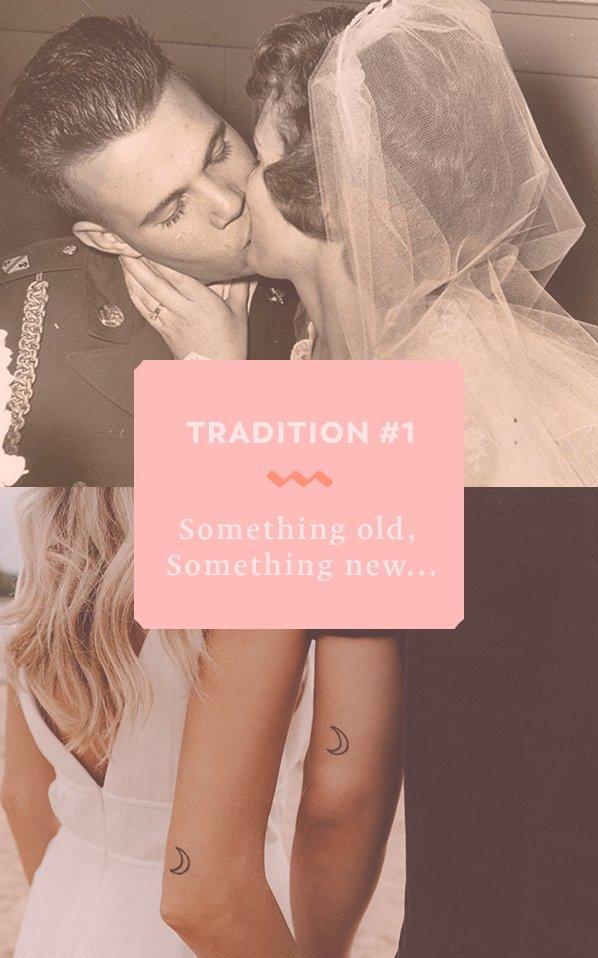 SOMETHING OLD, SOMETHING NEW, SOMETHING BORROWED AND SOMETHING BLUE
ORIGINS
This well-known tradition comes from an old rhyme that actually goes "Something olde, something new, something borrowed, something blue, a sixpence in your shoe". Who knew? These symbolic elements are meant to bring you and your future spouse good luck, so this is definitely one tradition we'd like to keep alive.
MEANING
Something Old is meant to protect the couple
Something New signifies optimism for the future
Something Borrowed (from the happily married) brings luck to the newlyweds
Something Blue signifies love and fidelity – 2 ingredients for a happy marriage
A Sixpence in your Shoe is meant to bring wealth
FYI - According to Google, a sixpence today is about 46-cents
MODERN TAKES
Something Old: Tuck a family photo or heirloom into your bouquet or your significant other's pocket – OR – buy an antique knife to cut your wedding cake
Something New: Your cough, cough Vow'd dress will suffice, but really the possibilities are endless
Something Borrowed: Borrow a line from your favorite poem for your vows, your grandma's veil, or maybe a handbag from your most stylish friend
Something Blue: This can be tricky if blue isn't really your color, but try sewing a blue button inside your gown, finding jewelry with a blue tone or add a single blue bloom in your bouquet – get creative
A Sixpence in Your Shoe: This one doesn't count because no one follows it, right? If you are SUPERstitious, hide $10 in your finance's shoe. It will at least come in handy for a post-reception snack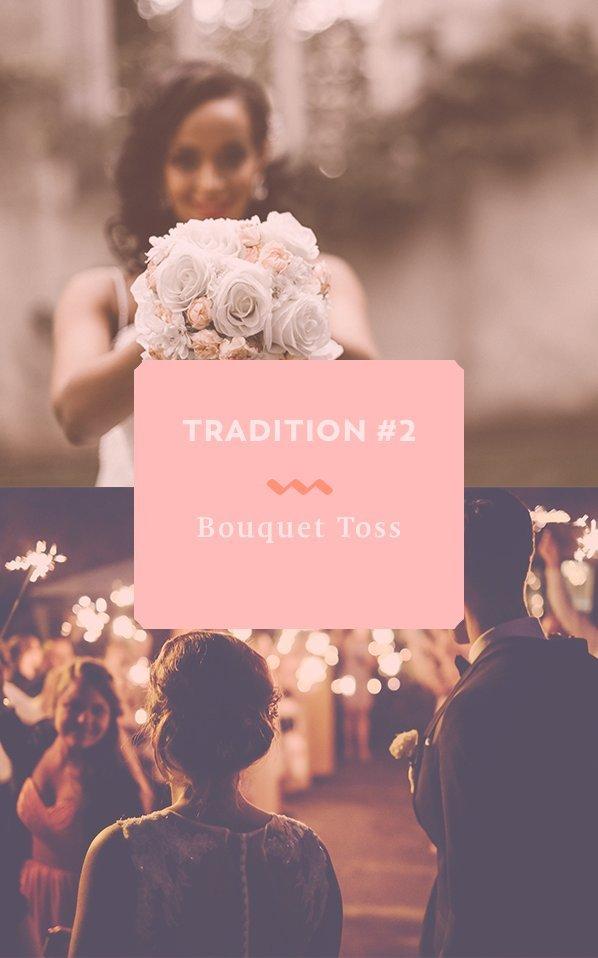 BOUQUET TOSS
ORIGINS
Straight out of a Real Housewives reunion, medieval ladies would try to rip pieces off the bride's dress or accessories for good luck. The bride would throw her bouquet to distract her ambushers and get away.
MEANING
Back in the day, anything the bride touched was believed to bring good luck. The bouquet was particularly lucky, and if a single woman caught it, love was in her future.
MODERN TAKES
If you've ever been the only single friend at a wedding, I bet you're leaving this tradition in the past! Or, consider these less socially awkward options:
Invite everyone, couples included, to participate in the toss. Let your guests know the toss is for general good luck, not for Uncle Bob to find a second wife
Share flowers from your bouquet with special guests. Towards the end of the reception give each person a bloom and share a few words on what they mean to you
Gift the bouquet to a special couple in your lives like your parents or recently engaged friends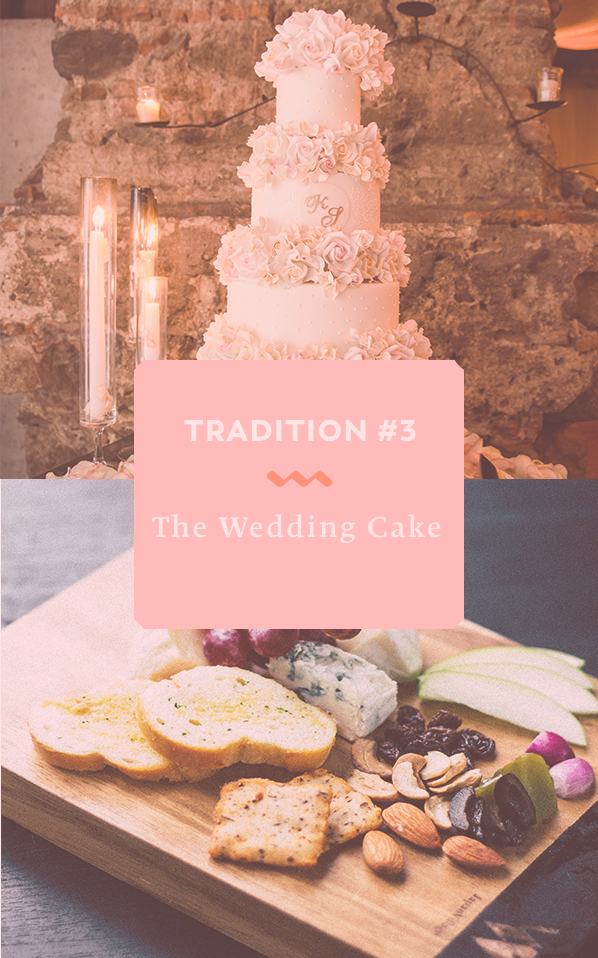 THE WEDDING CAKE
ORIGINS
Turns out, people have used bread to celebrate love since the beginning of time! If you missed this history lesson in school, here are some highlights:
In ancient Rome, the groom would break a loaf of barley bread over the bride's head and guests would gather the lucky crumbs
Fast forward to medieval times, the couple would try to kiss over a pile of small spiced buns (picture: tower of donut holes) without knocking them over
The hottest wedding trend of 1685? Bride's Pye, filled with meats, spices and rings guests would try to find
Finally ,we can thank Queen Victoria for popularizing tall wedding cakes, with classic white "Royal" icing
MEANING
Wedding cakes were originally designed to mirror the bride in her dress. Much like the ancient Romans getting those crumbs, when wedding guests eat your (chocolate raspberry truffle) cake, some good luck will rub off on them too!
MODERN TAKES
Dessert options are endless, don't feel like you have to limit yourself to cake. Consider some of these creative ideas or come up with your own:
You can't please everyone, but giving them a choice is a good start. We love options like a donut wall, luxe tarte spread, or renting a local ice cream truck. No need to wait on the DJ to call their table to start
Pick an option that represents your heritage - Tres Leches or Croquembouche anyone?
Missing a sweet tooth is no excuse – Try a cheese board instead. Europeans often eat cheese at the end of their meal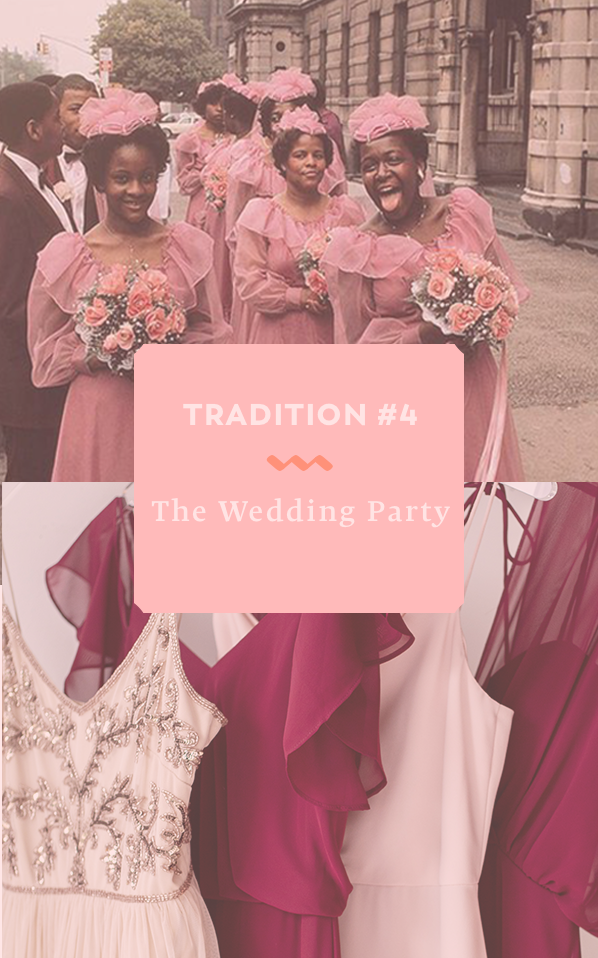 THE WEDDING PARTY
ORIGINS
In the 16th century, groomsmen and bridesmaids matched the newlyweds to hide the couple's identity and protect them from potential captors!
MEANING
Besides saving you from an annoying captor (or ex…), having your people there while you say your vows has always meant support and community. It takes a village!
MODERN TAKES
Your relationships are unique, so celebrate your people in personal ways! Some modern options worth repeating:
Gone are the days of captors, so have your wedding party wear styles that work for them, within a palette or theme. We've got your back with bridesmaids dresses 35 colors and 15 styles to fit everyone in your party!
Invite those closest to you to be a part of your group, regardless of gender! Coordinate accessories to tie each group together.
Keep your wedding party small with a few special supporters! Smaller parties allow for more personalized roles, like having your party contribute vows in your ceremony.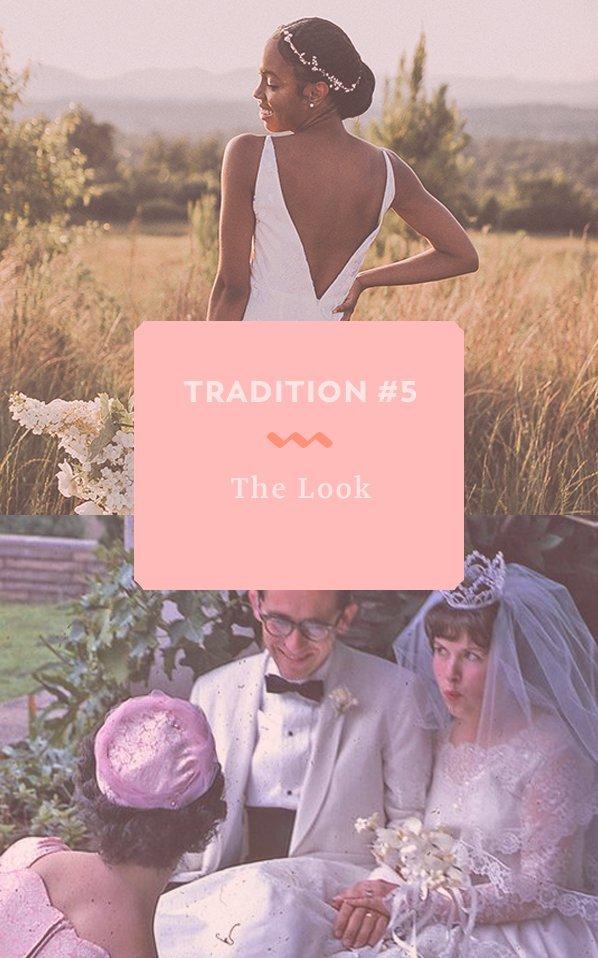 THE LOOK
ORIGINS
Who's the greatest bridal influencer of all time? A: Queen Victoria (1842) who popularized wearing a white dress! Before her time, European brides typically wore head-to-toe gold or silver.
MEANING
Queen Victoria stepped out in white because she was entering her marriage as Queen of the State, instead of a princess. She, and many brides before her, wore white to showcase her wealth, beauty and power.
MODERN TAKES
Your wedding and dress are meant to be personal! Wear what makes you feel beautiful. If you need help finding it, we're here for you. Some options we're loving:
Nothing says Beyoncé-level freedom and confidence like a bridal jumpsuit. And of course, we have the perfect one for you!
Chanel pre-Victoria royalty in your bridal party by adding sparkly details to their looks.
And while we could go on FOR DAYS about all the options for your wedding attire, remember – it's the love that's most important. You're going to look beautiful!
The moral of the story? Do what feels right for you and your partner! Want more advice? Send us all your questions: [email protected].