From the Experts
5 Tips for Eloping in Big Sur
Can you say top of the bucket list? Big Sur is one of the most popular elopement destinations in the world, but that doesn't mean it's easy! Planning, patience and flexibility are the keys to success (like for most everything in life!), but to help you get one step ahead of the game, we quizzed Bella Neal from Moonstone Photo on the best ways to help get you get hitched without a hitch on the beaches of California.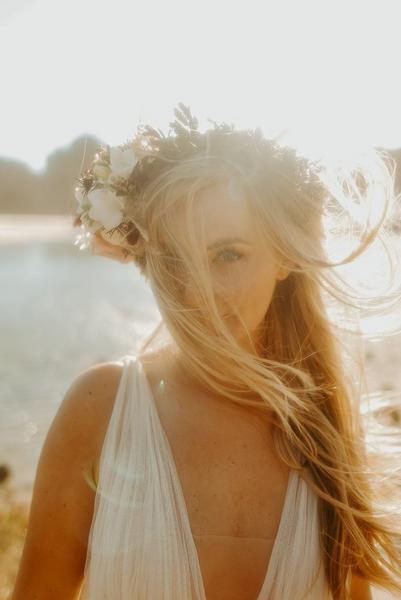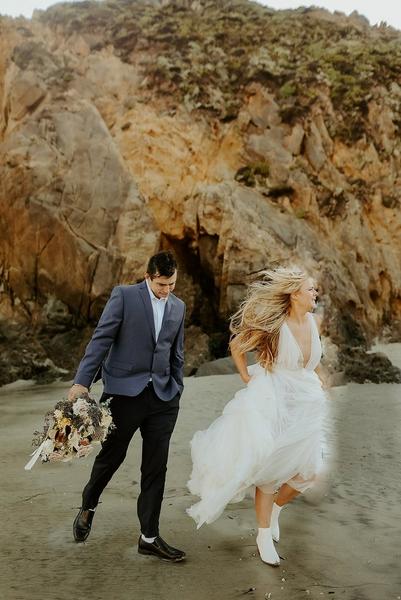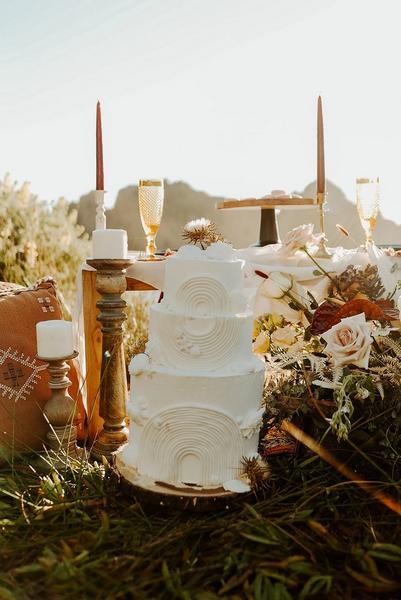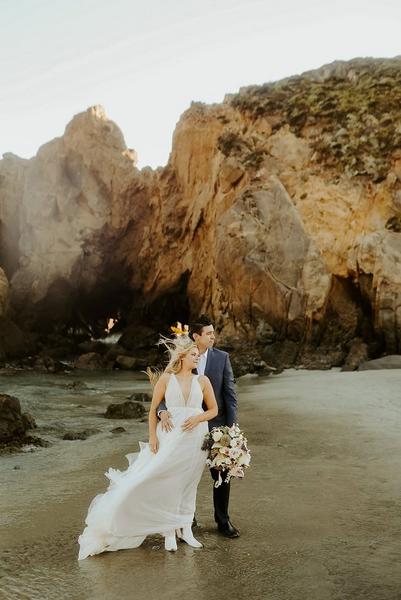 "My favorite thing about Big Sur is that it feels like another world to be in. It's a small little town away from the busy environments, so it gives you the opportunity to slow down with your fiancé and family members and to soak in all the beauty around you.
Big Sur is hands down one of the most beautiful places I've ever seen and it provides the sense that you're somewhere secluded, alone and foreign, without being too far from everything you need as a bride like vendors, hotels, spas..."
Count us in! We're here to help outfit and accessorize you for the big day (no matter the location), but keep reading for Bella's pro tips on the best way to tackle the other details!
1. Mind Mother Nature
"It is windy as heck, so pick hairstyles that contain your hair at least a little bit! Don't have anything loose on you because it will blow away," said Bella.
The good news is that Vow'd has plenty of awesome hair accessories to lock your locks in—check out our awesome assortment of clips, vines and combs that will add a perfect pop of sparkle against the beaches of Big Sur!
2. Prepare to Unplug
"There's no cell service anywhere in Big Sur, so talk to your vendors and anyone you're meeting beforehand and have a plan!"
A good rule of thumb no matter where you're at… having clear plans and expectations for the day is key. Finding vendors who are up for the challenge makes every detail go a little more smoothly!
Elopements also allow brides to play around with fun setups that might not work as effectively at a traditional ceremony. For example, Hometown Gatherings set up a gorgeous boho picnic for this Big Sur elopement, strategically placed so that the bride and groom could sit down, relax and take in the beauty Big Sur has to offer at every angle. "Setting up a space to enjoy your first married meal above the view just makes it so much more surreal and breathtaking," said Bella.
3. Let the Sun Lead
"Golden hour is different at Big Sur, it's not the same golden hour as everywhere else. If sunset says 8:55, golden hour starts at that time!"
To get that perfect shot, you've got to time it right! Be sure to equip your photographer with plenty of inspo so that when the light is right, you're golden in more ways than one! Need somewhere to start searching? See below ;)
4. Designate a Driver
"There's not a lot of parking at all, so you have to be strategic with how many cars you bring! There are parking spots on the side of the road but you're on a cliff the whole time so it's pretty dangerous, and the public parks have tiny and busy parking lots!" said Bella.
Moral of the story—keep your elopement intimate, or ask you guests to get friendly and carpool! Less is more at Big Sur, and that goes for wheels on the ground.
5. Eyes on Me
"Let the day flow how it's meant to be. You are not on a timeline— you chose to elope to be carefree and focus on the story of you two, so be intentional with your time. Pick activities you love to do that day together, choose food you love eating together, make it about you two and no one else!"
We couldn't have said it better ourselves. At the end of the day, your elopement is about your love, and the dress, setting and vendors should reflect that. Seeking more inspo? Head to our Pinterest and check out what's inspiring us.