Rachel & Robbie
Eloped in the big apple
When Robbie and Rachel decided to elope in NYC with just one month's notice, Rachel knew we had her covered—she was able to visit Vow'd in Nashville and ended up in the dress of her dreams, marrying the man of her dreams! Her whimsical elopement captured the essence of her love story perfectly, and inspires us to remember that wedding planning doesn't have to be stressful or take months (or even years)!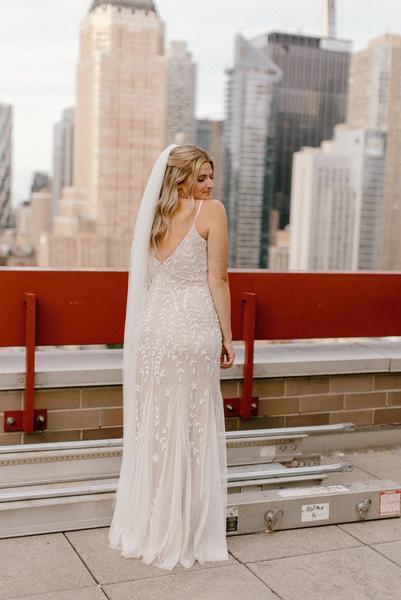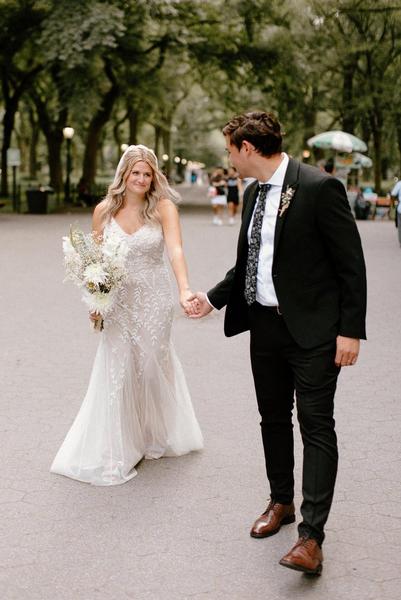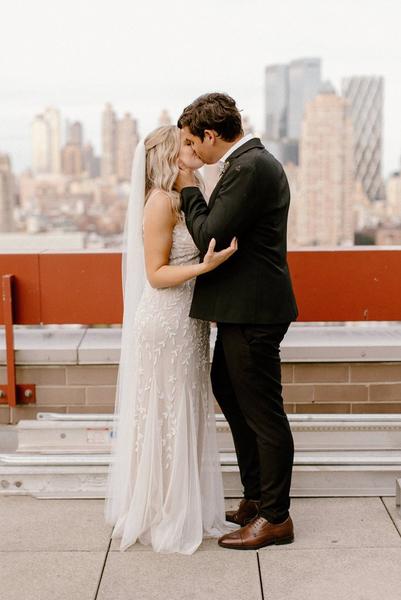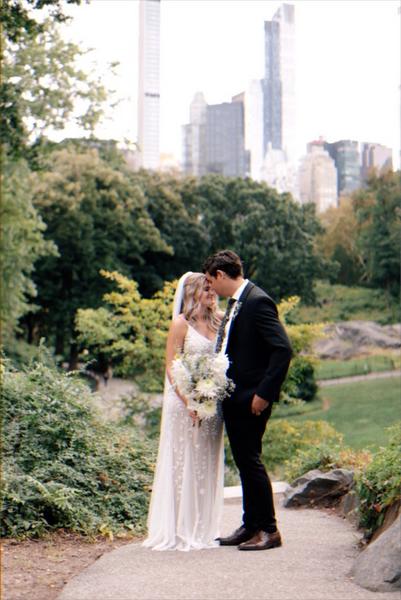 How did you and Robbie first meet?
I met my husband, Robbie through my best friend. He is her brother-in-law! I have known him for years, which is so special! A couple years ago, Robbie had just moved into a new place and posted a picture on Instagram of a beautiful house plant. I DM'd him to ask where he got it. He replied quickly and told me where and invited me to meet up so we could shop together. We had brunch and went to the plant shop. We had such a great time laughing and talking—it was so comfortable. We dated for two years, got engaged, and eloped two and half months later!
Quick, efficient and straight to the point. When you know, you know!
At what moment did you know you wanted to spend the rest of your life with Robbie? What are the qualities that made you feel that way?
I knew Robbie was the one by the way he treats me and others. He makes me feel loved, secure and safe. And as busy as our lives have been, he makes time for what is important. We have the same morals, values, and goals in life and we get along so well!
If you could choose three words to describe your relationship, what would they be?
Love, Adventure, Intentional
We are so obsessed with your New York City elopement. Tell us all the details—what was your favorite part?!
Robbie proposed while on vacation in Oregon, so we thought it would be a fun story to say we got engaged on the west coast and married on the east coast, so we chose New York City! Our best friends live in the city, and we told them we wanted to elope somewhere in Manhattan. They were incredible—giving us suggestions and going to places and sending pictures and videos for us to decide. Once we saw the Bethesda Terrace location, we were hooked!
My favorite part was our vows. We decided to write our own and it was so intimate and special. By the time our officiant announced us husband and wife, we turned and to see a crowd of New Yorkers sitting and standing on the steps clapping, cheering and taking pictures! It was so much fun. We strolled through Central Park for pictures with our good friend and photographer, Carrie Smith. We then had our reception dinner at The Smith, where my parents (who were in California) sent us a few bottles of champagne to celebrate with our friends! It was the best day ever.
Sounds like a lot of fun… our invite must have been lost in the mail…
You were able to visit our Nashville location to shop for your dress. What was that like? How did you know Radiant was the one?
Robbie and I decided to elope with just a month's notice. I freaked out just a little since I didn't have a dress yet, so I decided to call two friends to see if they were available to meet me at Vow'd on my lunch break! Radiant was the third dress I tried on and I really loved it. I tried on three more dresses, but I kept wanting to put Radiant back on. So, I put it back on with the floor length veil and I cried!! I just felt so beautiful, comfortable and lovely. Right there I said, "This is it!!" It was such a great experience!
What's the best advice you received when shopping for your wedding dress? What advice would you give to brides who are also searching for ~the one~ ?
It was all up to me. Not what my friends and family thought, but that I was comfortable and felt beautiful. I couldn't see myself in another dress. I recommend Vow'd to anyone who is in the search for the perfect wedding dress. The prices are incomparable and the quality is great!
Rachel and Robbie inspire us to live in the moment and not take things too seriously. Cheers to a lifetime of happiness—hope it doesn't pass in a New York minute!