AMBER & CORY
A love so sweet & sincere
Amber and Cory share a personal, intimate love, and their big day certainly reflected that. Peppered with perfect moments between the couple, the photos don't do it justice. We had to know more—and Amber delivered our most poetic love story yet!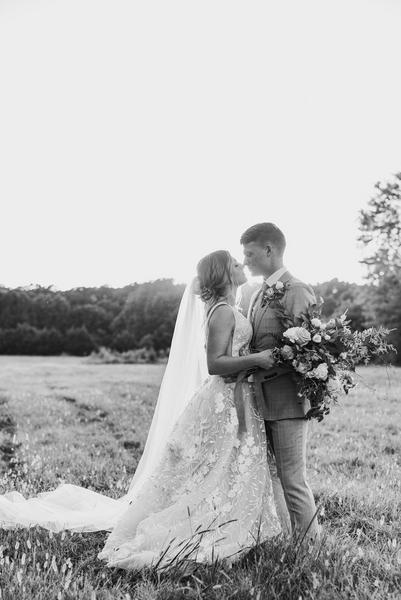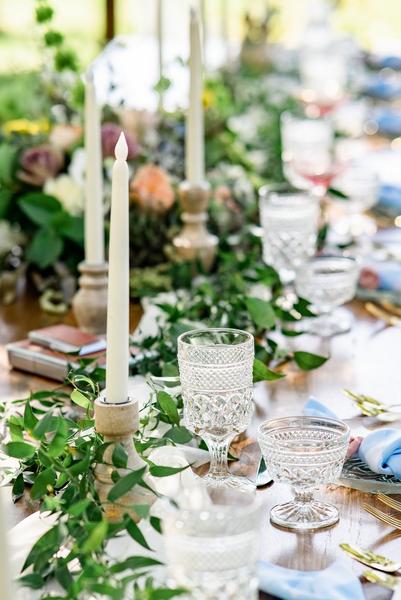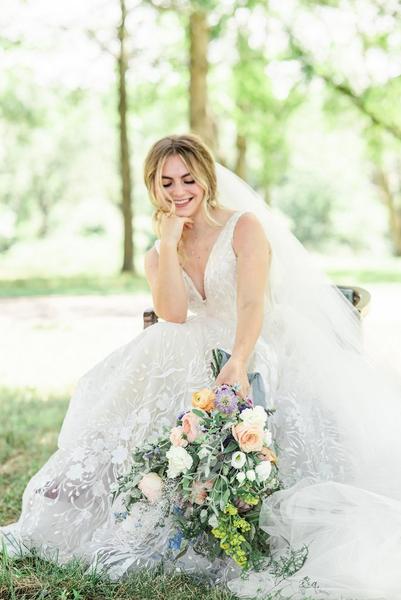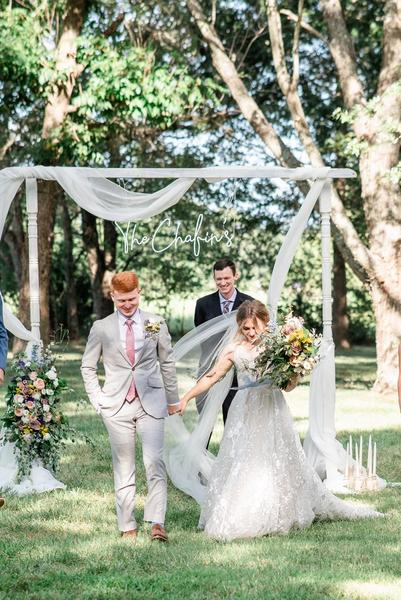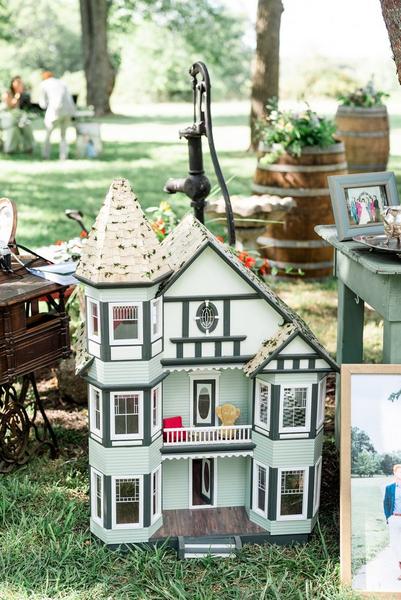 What was the first thing you noticed about Cory when you met?
As silly as it seems, the first thing I noticed about Cory was his striking red hair! I remember thinking "There's no way that is his real hair." Sure enough it is...in my defense he had a pretty wild hairstyle when we first met.
When did you know that he was "the one?"
There was never just one moment that made him "the one." It's the collection of experiences, feelings, conversations, values, and moments that melted together. In the midst of this entanglement with each other is this person that I started falling in love with many years ago, who is still the same person at his core, but is also charmingly different.
Tell us about your vows and/or speeches – Did you write your own? Who spoke at your wedding, and what was the most memorable thing they said or did?
Cory and I chose not to exchange vows during our wedding ceremony, I personally find it rather romantic knowing there are words that my husband and I have exchanged that haven't been heard by others' ears.
Instead of grand speeches, we opted for a small after party, post send-off, where our friends were free to share their thoughts, stories, and memories. It was a very special way to end the night and I would not change having these personal moments shared between just a few individuals.
*Furiously takes notes
We'd love to hear what you originally were looking for and how you decided on the gorgeous Sincerity Dress? What made this the dress for you?
When we decided on a wedding date just 3 months after our engagement, I did not initially believe it was possible to find THE dress. I knew I wanted a wedding dress with a pattern or texture that wasn't your typical wedding dress lace...something classic but not traditional. I could not tell you exactly what it was I was looking for… that is until I saw the Sincerity dress. My heart was in awe, the embroidery design was stunning and covered the entirety of the dress… and that thread! The thread used in the pattern wasn't at all glittery, but had this ever so subtle shine that when the light catches it just right makes you GLOW! I was drawn into this dress because of the embroidery but fell in love with it because of the train. Everything about Sincerity felt like it was designed for me!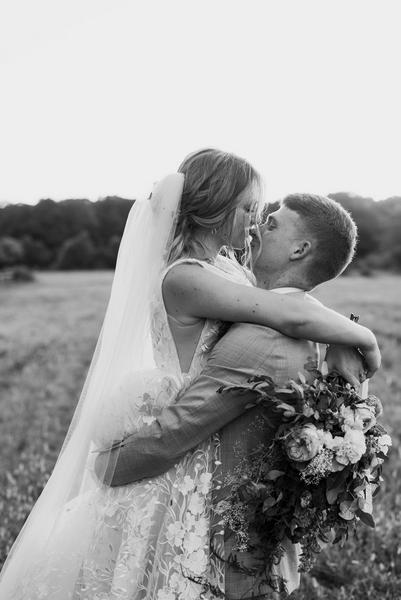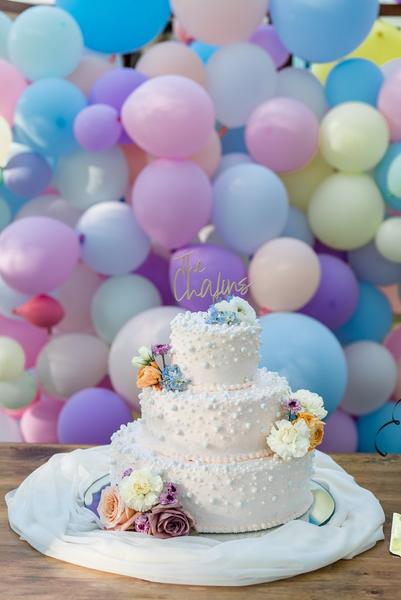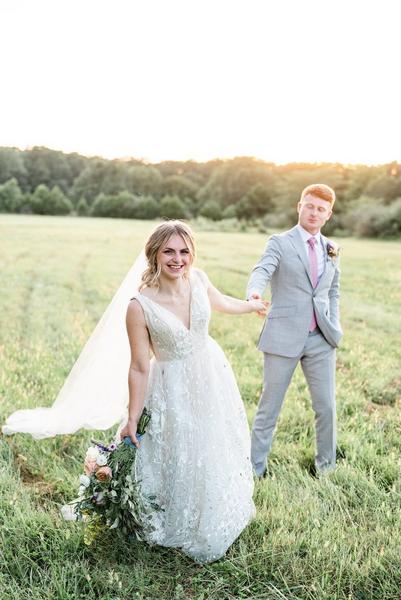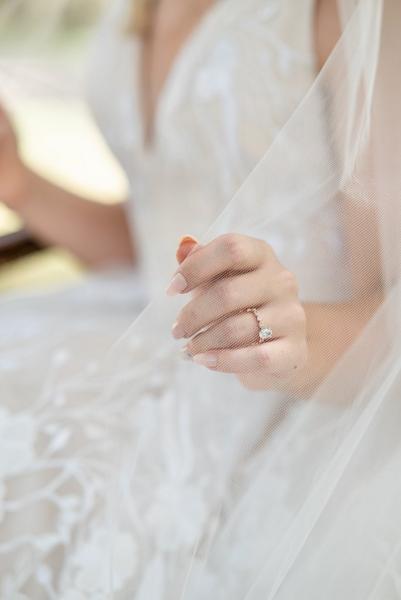 We'd love to hear about your experience in our stores! Besides finding your dress, was there anything else that stuck out to you about shopping with Vow'd vs. other stores?
At the other dress stores I visited, I was told my options were limited because of the short time frame and my petite size. It was super discouraging to learn that I would have to choose between my set wedding date and finding a dress I was in love with. That was not the case with Vow'd! Vow'd had a larger variety in styles and was more size inclusive than other dress stores I went to. I did not have the privilege to visit a physical Vow'd location, but I trusted my heart's initial reaction to the Sincerity dress and it certainly paid off. I could not be any happier with this decision. I would recommend Vow'd online for anyone who is up for an adventure.
Tell us about your vendors! Who did you use to bring your big day vision to life? Also, what was your favorite part of working with each of them?
Photographer- Aria Lewis Photography
I cannot rave enough about our photographers, Aria and Andrew, AKA, the dream team. I absolutely loved having dual photographers, but my favorite part of working with them was how effortless it was. They are both very personable which makes it insanely easy to be comfortable in front of their cameras. You can just tell how much they love photography, each other, and working together.
Rentals- The Vintage Rental Co.
The Vintage Rental Co. has a phenomenal selection of not only vintage pieces but many classic and modern ones as well. Their website offers so many versatile items that would suit any bride's style/taste. This small business owner is so sweet and did everything she could to ensure I had all the necessary things to make my dream wedding happen!
Flowers- Flower Moxie
Flower Moxie is a small business that specializes in providing wedding flowers for those DIY brides. I liked that I had the ability to choose between their pre-selected flower collections or choose specifically which flowers I wanted...this is what I chose to do! Their large selection of blooms was impressive but my favorite thing about this company was their customer service.
Cheers to loving Cory even when that "striking red hair" turns grey. Congratulations, Amber! We are so ecstatic to have been a small part of your big day.